If you are passionate about the marine world, what could be better than turning your passion into a career? The horizons of scuba diving are no longer limited to recreational activities alone. Today, being a certified professional could open doors to an underwater career.
According to the 2019 edition of the SFIA Topline Report, there are 2.8 scuba diving participants in the US. However, a large part of these divers spends their own money indulging in diving across the world. If you are looking for exciting opportunities to leverage your underwater skills, this article's for you! Here, we have prepared some jobs that are much coveted in the industry.
1. Diving Instructor
Thanks to the boost of tourism, diving instructors are in high demand across the world. You can go a step ahead from recreation by getting a scuba instructor certification. It can be obtained from one of the recognized scuba certification agencies such as NAUI, SSI, or PADI. Some programs might also require you to do an internship. Instructor jobs involve responsibilities beyond teaching the theory. You would be introducing and guiding students to the discovery of the underwater realm.
2. Marine Archeology
Marina archeology entails the job of excavation in the deepest parts of the oceans and seas. This vast subject requires you to have a thorough knowledge of the underwater. It involves complex restoration and preservation, and hence one that requires specialized training. The underwater archeology has further sub-disciplines based on the type of excavations involved.
3. Media Diving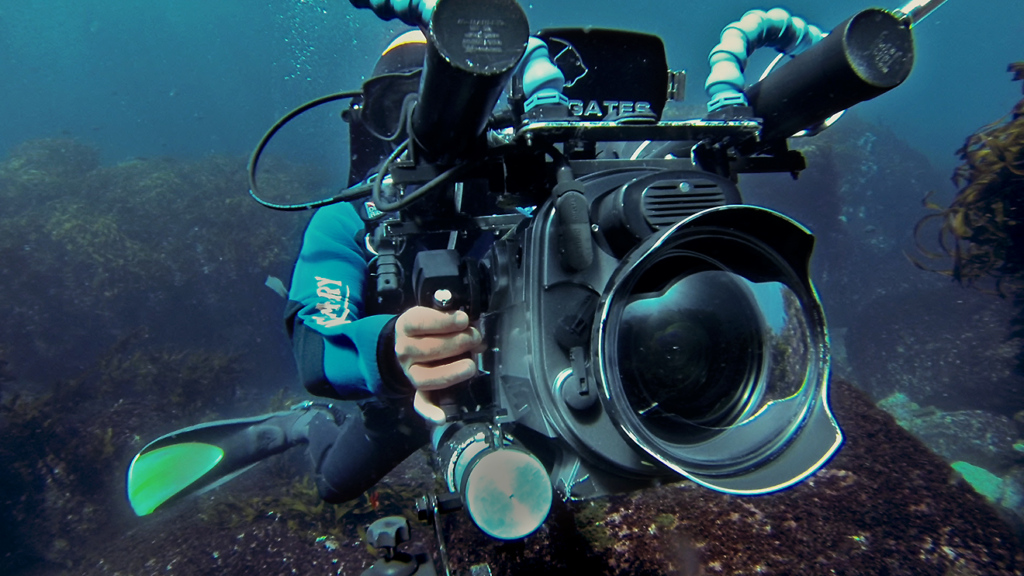 Also known as underwater filmmaking, it involves producing subaquatic footage for commercial purposes. It is the perfect job that combines the enthusiasm for diving and photography. One can start with an open water certification or specialize in an underwater photography course to work in this niche. The scope of this career extends to fashion, film, and hospitality industries. 
4. Offshore Diving 
When it comes to commercial driving, such jobs are high in demand. The offshore diving includes surveying, construction, and maintenance of pipelines, oil, and gas platforms. This often requires additional skills of underwater welding and engineering. Offshore diving works would require you to work on sites for an extended time, depending on the project duration. The environment might be extremely harsh. It also takes rigorous training to handle special pieces of equipment. 
5. Onshore Diving 
Onshore diving is similar to offshore regarding the type of work and the equipment used. However, onshore activities occur in smaller water bodies, such as rivers and lakes. It is generally less imposing than offshore jobs. Inland divers mostly work on civil engineering operations in water bodies and harbors as part of the construction. It could also contain maintenance and repair works. The salaries of both these commercial jobs depend on the location, employer, and depth of dive. As onshore diving is relatively safer, it yields less income compared to offshore counterparts.
6. Underwater Research Diving
There are still many parts of the sea bed that remain a mystery to science. Research divers go on expeditions to collect information on marine environments. Learning about aquatic life is essential for conservation efforts. The American Academy of Underwater Sciences has logged 2.4 million scientific dives since 1998. For this profession, researchers or scientists often require high educational qualifications.
7. Public Safety Diving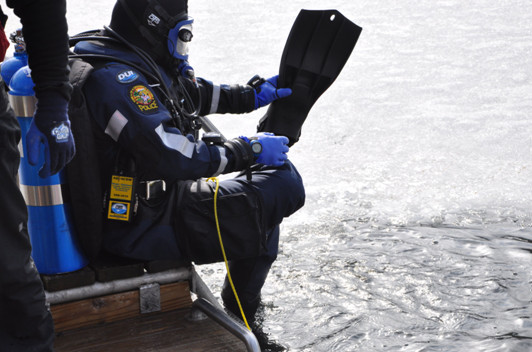 You should be familiar with this job designation already. Public safety divers are certified diving professionals who also work as law enforcement offices. Their duties would include any underwater work assisting criminal investigations or rescuing operations. This job requires intense training, usually to cope with the conditions of working in poor visibility. Safety divers could also receive training as first responders such as firefighters or police officers. 
8. Hazmat Diving 
As one of the most demanding jobs in the world, hazmat diving requires the diver to tackle dangerous situations underwater. For the very same reasons, it is also one of the highest-paid jobs in the commercial diving industry. You could be dealing with anything from hazardous materials, toxic waste, to raw sewage to do repairs, upkeep, and cleaning. The circumstances could be dangerous, and the divers have to take precautionary measures. They wear pressurized and sealed diving suits to prevent contamination. 
9. Military Divers 
Also known as naval divers, they do military operations underwater. You will have to first enroll in the military to opt for this subdivision. The job might need you to perform bomb diffusion, intensive search and rescue tasks, demolition, and other defensive or offensive military tactics. With this training, after the military, you can also shift your career to other commercial applications of diving.
As a recreational activity, diving is exceptional. As a commercial one, it is highly competitive. While rewarding, you need to be prepared to face the challenges and improve yourself with sufficient training. If you feel that diving could hold the future, do further research, and see which one would be most fitting for you.
—
About the Author
Oliver Clifton is a professional writer working with https://essaypro.com/, academic writing service. He also develops SEO-optimized content for brands and manages the contribution of a variety of articles on diverse topics. Oliver is also a great travel enthusiast, he enjoys his digital nomadic life to the fullest.