Do you consider yourself a confident diver? Well, no matter how good you are, there are just some places you should never dive. Some have dangerous creatures, tides, and other safety hazards, while others are known for causing accidents. Here is a list of places you should never dive, most are not great for swimming either!
1. The Strid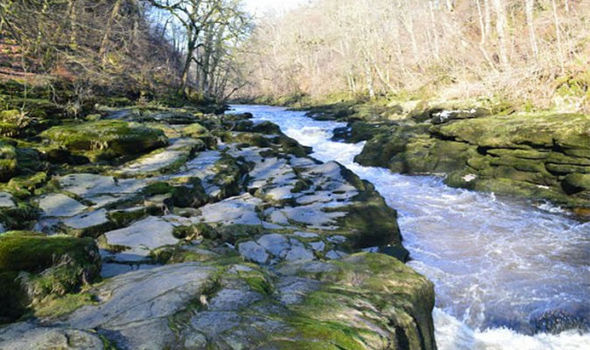 The River Wharfe in Yorkshire, England has an extremely narrow part called "the Strid", which is a local variation of "stride". This seemingly lovely little creek is actually a deadly waterway that has dragged down everyone who ever set foot in it. The Wharfe itself has an extremely strong current, and due to the narrowness of the Strid, that current gets even stronger in this area. 
While there do not seem to be any hard numbers about exactly how many people have perished in the Strid, the local legend is that no one who has dared enter the waters has ever made it out alive.  Nonetheless, the hiking trail that takes people near the Strid is still a popular place to stroll!
2. Kipu Falls
Kipu Falls in Hawaii was an extremely popular place for swimming and diving until they were closed to the public in 2011. Witnesses recount some swimmers peacefully bathing in the pool at the bottom of the falls that simply drowned without any obvious reason. They just all of a sudden disappeared under the surface never to be seen again. Kipu Falls has gained a dangerous reputation due to drowning deaths of five people in a five-year span, as well as numerous other injuries. The deaths have some locals questioning whether an angry "mo'o" – a Hawaiian water spirit lizard – lives in Kipu Falls.
3. Hanakapiai Beach
Hanakāpīʻai Beach is a beach in the Hawaiian islands located on Kauai's Nā Pali Coast. The beach looks deceptively like a paradise on Earth. Like many beaches on the Na Pali Coast, strong rip currents, as well as high surf, dangerous shore breaks, and other hazardous ocean conditions make Hanakapiai Beach extremely dangerous. The biggest danger that would most likely lead to your untimely demise is rip currents. They're so powerful that even the most experienced diver in the world wouldn't be able to get out of their deadly embrace. And due to the geography of the area, if you get caught in a rip current, you won't be able to find a safe place to swim towards: the nearest safe beach is 6 miles away.
4. Exploding Lakes
There are 3 exploding lakes known to people so far. Lake Monoun and Lake Nyos in Cameroon and Lake Kivu in Rwanda. These lakes appeared over pools of magma separated by a dam of volcanic rock. From time to time, magma releases methane and carbon dioxide right into the water. In 1984, 37 people suffocated to death at Lake Monoun. The Cameroonian government suspected the explosion was an act of terrorism or the result of someone dumping chemicals into the lake. More traditional villagers in Njindoun believed legends that evil spirits periodically left the lake and killed neighboring people.  And in 1986, an explosion on Lake Nyos killed 1,700 people and 3,500 livestock. 
5. Horseshoe Lake 
Horseshoe Lake is a seemingly wonderful place within Long Valley Caldera Field in California. It has everything one could ever want for outdoor excursions: boating, swimming, sandy beaches, picnic areas, hiking trails, and over 40 hectares (100 acres) of dead trees killed by gases sweeping from the magma beneath. The story goes that a series of small earthquakes in 1989 and 1990 opened pathways for carbon dioxide to rise to the surface, killing the surrounding wildlife. Because CO2 gas is heavier than air, it can collect in snowbanks, depressions, and poorly ventilated enclosures, such as cabins and tents, posing a potential danger to people. Breathing air with more than 7% CO2 can cause unconsciousness and death. It is still unsafe to this day, and you should never swim here, let alone dive!
6. Berkeley Pit
The Berkeley Pit is a former open-pit copper mine located in Butte, Montana, United States. It is one mile long by half a mile wide with an approximate depth of 1,780 feet. It is filled to a depth of about 900 feet with water that is heavily acidic! Forget about diving, you can't even touch the surface with your foot. It's history as a copper mine means that the surrounding rocks contain metals such as zinc and arsenic, making the water highly oxygenated and dangerous. By 1980 nearly 1.5 billion tons of material had been removed from the Pit, including more than 290 million tons of copper ore. In 1995, there was a flock of geese found in the lake, and all 342 birds were dead!
7. The Samaesan Hole*
A former military stronghold, the Samaesan Hole in Thailand reaches to 280 feet (85 meters) deep and is home to a surprising number of unexploded bombs.  You'll even find the area listed on marine charts as an 'explosive dump ground.' *This is actually the only spot on this list where you can actually dive, but only under very special circumstances. Tech divers use the Samaesan Hole as a trimix training site, but reaching the hole isn't easy due to the area's strong currents and the lack of light at such a depth. Luckily, the bombs are unlikely to explode, but advanced training is necessary for this dive site.
There are plenty of incredible dive spots in the world, and endless places to explore. But not all bodies of water are safe for diving, and many are not good for swimming either! Stay safe, and always follow the recommendations and signs if you are in an area that is not good for diving. We hope you enjoyed this article on the seven places that you should never dive! 
_
About the Author
I'm Harmony Rose, a California native passionate about exploring the world and sharing the craziness along the way. I've traveled across ten countries so far, and do not plan on stopping any time soon. This blog is a way for me to use my passion for writing and photography as a way to share my adventures!
You can follow Harmony: 
Website:  https://www.harmonyrosemedia.com